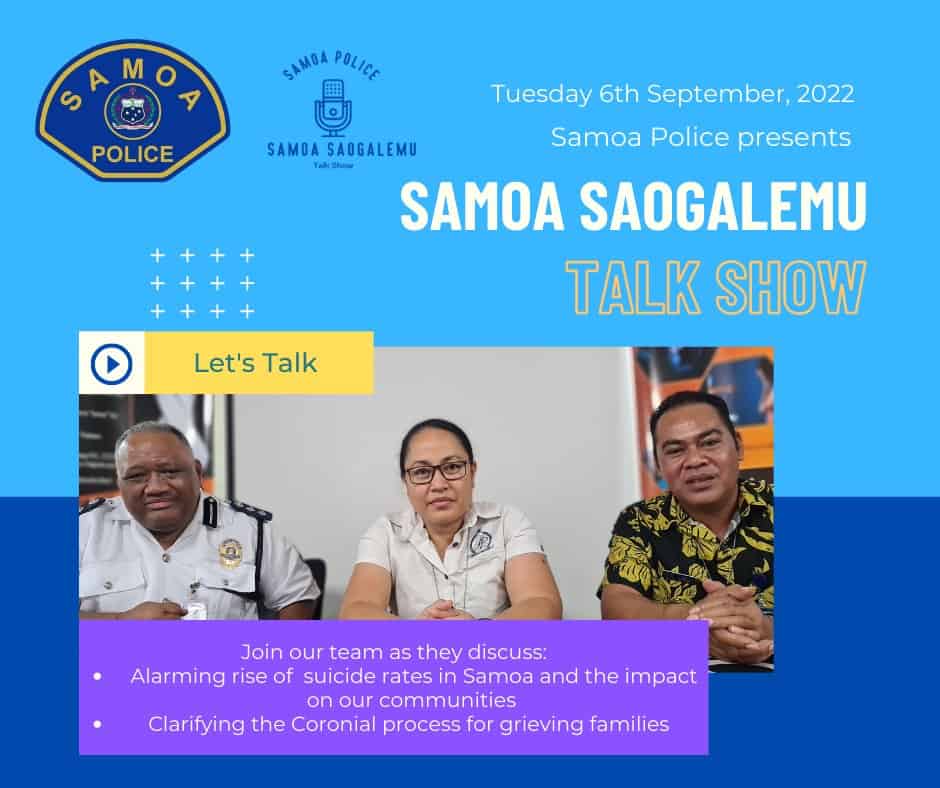 The Samoa Police, Prisons, and Corrections Services is proud to present SAMOA SAOGALEMU (Safe Samoa) Talk Show, a platform created and produced by the Samoa Police to provide updates from the SPPCS and raise awareness on important issues of the day that contribute to keeping Samoa Safe!
Coming up this week is World Suicide Prevention Day on September 10, 2022. To kick off our first episode on the Samoa Saogalemu Talk Show, we will be having the hard conversations about the rising rates of suicide in our country and how we can support those that are risk of suicide. Join us tomorrow online at 1pm for our first episode #worldsuicideprevention2022″
POLOKALAME O LE SAMOA SAOGALEMU:
"E fiafia lava le Matagaluega o Leoleo, Falepuipui ma le Ola Toefuata'ina e logologopuialii le mamalu o si o tatou atunuu I luga o lenei itulau, e tusa ai o le polokalame faalauiloa a le Matagaluega ua faaigoaina o le SAMOA SAOGALEMU. O lenei polokalame ua saunia ma tuufaatasia e le Matagaluega, mo le tuuina atu lea o faamatalaga ma faalauiloa i mataupu taua mo le nofo silafia, aua le saogalemu o Samoa ma ona tagata.
O le vaiaso nei, 10 o Setema 2022, o le a faamanatuina ma faatauaina ai e le lalolagi puipuiga o soifua o I latou ua aafia I le Pule I le Ola. O le vaega muamua o le SAMOA SAOGALEMU, o le a faatalatalanoaina ai mafuaaga o le faatuputupula'ia o le Pule i le Ola i totonu o si o tatou atunuu, ma ni auala e mafai ona fesoasoani ai. Maimoa mai le aso a taeao, aso Lua 6 o Setema 2022, i le itula e tasi (1pm) i le aoauli, mo le vaega muamua o lenei polokalame #faataualeola2022 #www.samoapolice.ws