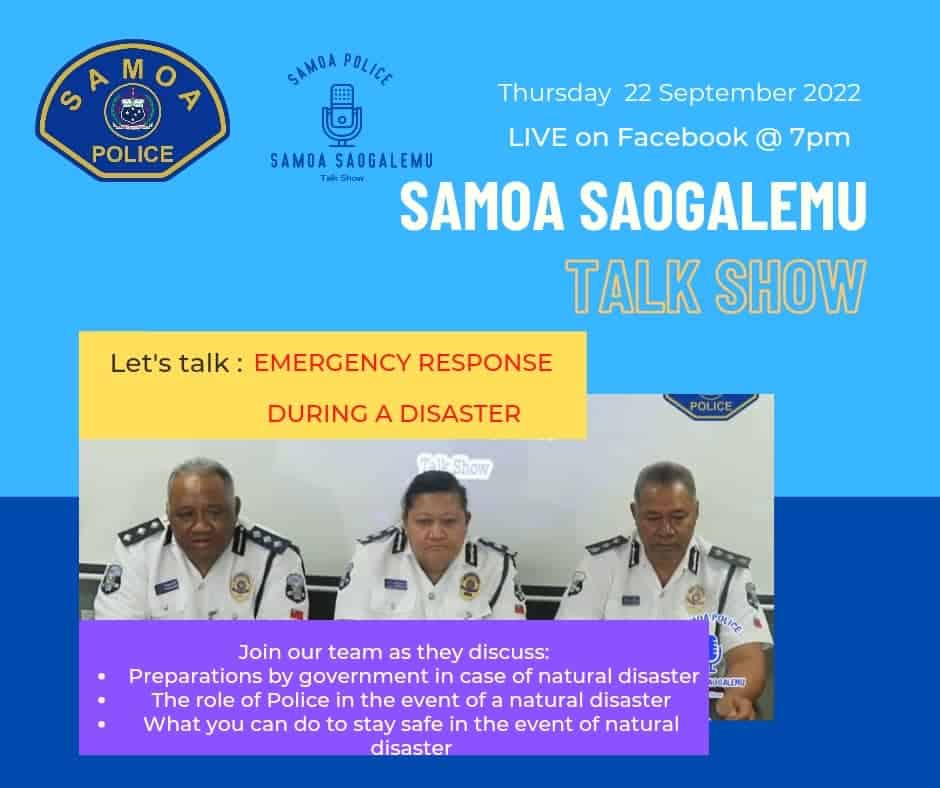 SAMOA SAOGALEMU PROGRAM:
As we approach the cyclone season, Samoa Police Services continues to advocate for community safety, and the work that goes into making sure that all is safe and secured from any natural disaster, that includes a potential volcanic eruption. This is the theme for the third (3) episode of our SAMOA SAOGALEMU talk show. We will be discussing our government's preparatory plans and also the Samoa Police, Prisons and Correction Services' roles and responsibilities if a Natural Disaster occurs. Be sure not to miss out! Join us tonight online at 7pm.
Working Together for a Safer Samoa.
www.samoapolice.ws
POLOKALAME O LE SAMOA SAOGALEMU:
Mo le Vaega Tolu (3) o la tatou Polokalame Faalauiloa o le SAMOA SAOGALEMU, o le a faapea ona faasoa atu nisi o tapenapenaga a le tatou Malo, faapea matafaioi a le tatou Matagaluega o Leoleo, Falepuipui ma le Ola Toefuata'ina i taimi o faalavelave faafuasei e pei o mauga mu ma afā. Maimoa mai i le itula e 7 i le afiafi ananei mo lea fa'atalatalanoaga taua.
Tatou galulue faatasi mo se Samoa Saogalemu.
www.samoapolice.ws